TAKING RESPONISBILITY!
Achieving more through personal initiative.
"Whenever everyone thinks of himself, then everybody is considered!" According to this motto, people live and work in many areas. Benedikt Ahlfeld is a self-manager! He shows you how to accept responsibility at work and in a private environment. In his lecture, he reveals the secrets of self-management and how you can be more successful with self-initiative: captivating, interactive, and entertaining.
Benedikt Ahlfeld is a bestselling author, thoroughbred entrepreneur, and founder of one of the biggest online academies within the german-speaking area. As a top manager, entrepreneur and active sportsman, he accompanies you on the path of accepting more responsibility.
Benedikt Ahlfeld is the self-manager. He is best known for working for or with:

Whenever you book Benedikt Ahlfeld as a speaker at your next event, you can be sure as an organizer that the emotional stories and practical examples in his speech or his keynote will captivate your audience. Whether in front of 20 or 2,000 participants, his enthusiasm concerning the topic of responsibility, which makes him so authentic, infects everybody. And he is known for his pleasant and professional personality that enables easy cooperation. It is not without a reason that Benedikt Ahlfeld is not only a keynote speaker, bestselling author of thirteen books and the trainer of the new generation. Mainly, he is one thing, a thoroughbred entrepreneur – already since his youth. As a speaker, he mainly addresses all people that are ready to accept responsibility in order to lead a life according to their personal standard. The multi-facetted speaker Benedikt Ahlfeld stands for responsibility, intoxicating impulses, and an effective self-management within the private and professional area. He offers inspiring lectures with many impulses for immediate implementation and is a sought-after interview guest. You receive direct and honest messages – entertaining and professionally thorough – as well as, many motivating stories about life and the economy that inspire others to accept more responsibility and to reach better decisions.
Download the speaker's profile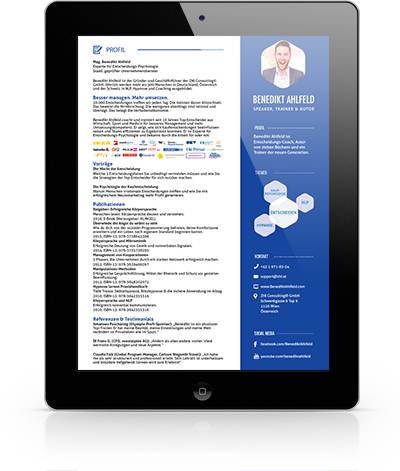 Experience one of the most exhilarating, motivating lectures of the top-speaker Benedikt Ahlfeld about the following topic possibilities:
Taking responsibility! (click to open)
"Whenever everyone thinks of himself, then everybody is considered!" According to this motto, people live and work in many areas. Benedikt Ahlfeld is a self-manager! He shows you how to accept responsibility at work and within a private environment. In a captivating, interactive, and entertaining manner during his lecture, he reveals the secrets of self-management, as well as how to be more successful with self-initiative.
_
All #Zombie? Leadership for the digital Generation Z
Leadership Z: This lecture reveals how to keep your employed great potentials from changing over to the competition (especially after having been trained by you) and how to win GenZ for your company, even if your branch is not 'sexy.' Maybe you have already asked yourself: "Why do they rather sit in front of computer screens with their friends for the whole day? Are they reliable?" Within the next years, the GenZ will constitute more than 50 % of the job market. It represents a wave that rolls toward us and, whoever misses it, will certainly lag behind the competition. In this lecture, you hear of and understand the mindset of the people that are younger than 24 years today. Hear of the 5 success factors that will make your company fit for the new generation and how teams can be guided successfully into the future. In this manner, you can build-up your top decision-makers that will enrich your company with their initiative. In short: how you can learn to ride the wave, instead of being swallowed by it.
How to overcome the fear of being yourself
The lecture that accompanies the bestseller with the same title by Benedikt Ahlfeld. Responsibility is oftentimes dispersed – now, it is about accepting it! Learn how to free yourself of social programming and how to further your comfort zone. As a result, you will utilize your complete inner power and begin a life according to your standard.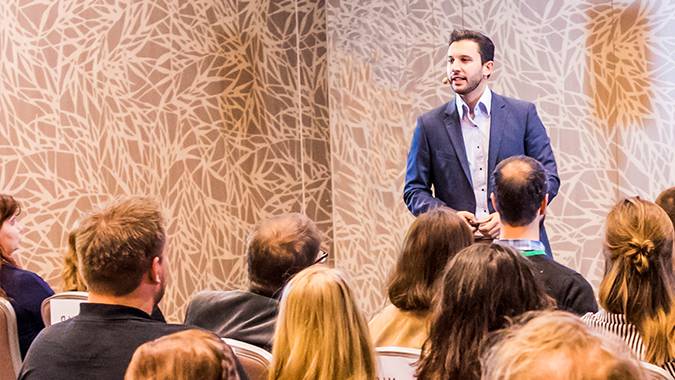 Plan a highlight of your event with Benedikt Ahlfeld. Fascinate your audience and experience how valuable content is presented in an exciting and humorous manner at:
Events
Management training
Keynote lectures
Kick-off events
Congresses
Customer events
Employee events
Association meetings
Sales meetings
Meetings for the management
Dinner speeches
Desire counsel
Speeches and keynotes can be booked for your event within 15 to 90 minutes. The impulses and the content of Benedikt's speeches ideally fit most occasions. Specially tailored to your event, according to your wishes, and your target group, guaranteeing enthusiasm, sustainability, and success. Many companies within the professional area of economy, management, sales, and many more utilize the speeches of Benedikt Ahlfeld to increase enthusiasm, self-initiative, customer relationship, motivation, innovation, engagement, or the sales activities noticeably and sustainably; thereby, achieving more success. While addressing the audience, the successful entrepreneur speaks based on his own experiences. For international meeting planners: Benedikt is fluent in English, German, and Austrian ;-) He has already held speeches in several countries on three continents. Hier klicken für alle Infos auf Deutsch.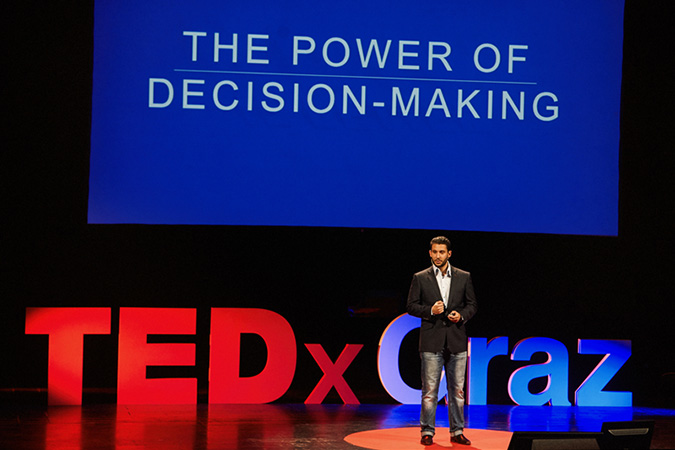 Download the speaker's profile
 Keynote Speaker: Benedikt Ahlfeld
Trainer & coach für 12 years
13-times book author
Top-speaker at TEDx and GEDANKENtanken
Combination of professional knowledge and experience
Effect: honest, direct, and always to the point
Certified business consultant
Already with 16, a thoroughbred entrepreneur
Adapts to changes with mind and heart
Viennese derision: also transmits demanding topics casually
Family person and an avid skier (just an authentic Austrian)
Hol dir mein Startpaket – es ist kostenlos!

Du willst selbstbestimmt Entscheidungen treffen und deine volle innere Kraft nutzen? Dann trag deine E-Mail Adresse im Feld unterhalb ein und hol dir das Startpaket. Es enthält:
Die herunterladbare Kopie meines Buches "Entscheidungsmacher"
So findest du deine Ur-Motivation (eBook)
Das Manifest (Motivations-Poster)
Der Tempel der tausend Spiegel (Geführte Meditation als Audio)
Mit Klick auf den Button stimme ich zu, die Infos und ggf. weiterführendes Material zu erhalten (mehr Infos). Meine Daten sind SSL-gesichert und ich kann meine Zustimmung jederzeit widerrufen.